Tiffanie was on her way out to briefly see off a friend who had shown up to check out her latest work, and there, our paths crossed again.
Through the transparent glass door behind her were dozen of art lovers who had trooped Gallery 1957 to catch a glimpse of her exhibition.
The golden walls against which the paintings hung made for great Instagram shots as young admirers took turns capturing the moment of beauty for their online followers.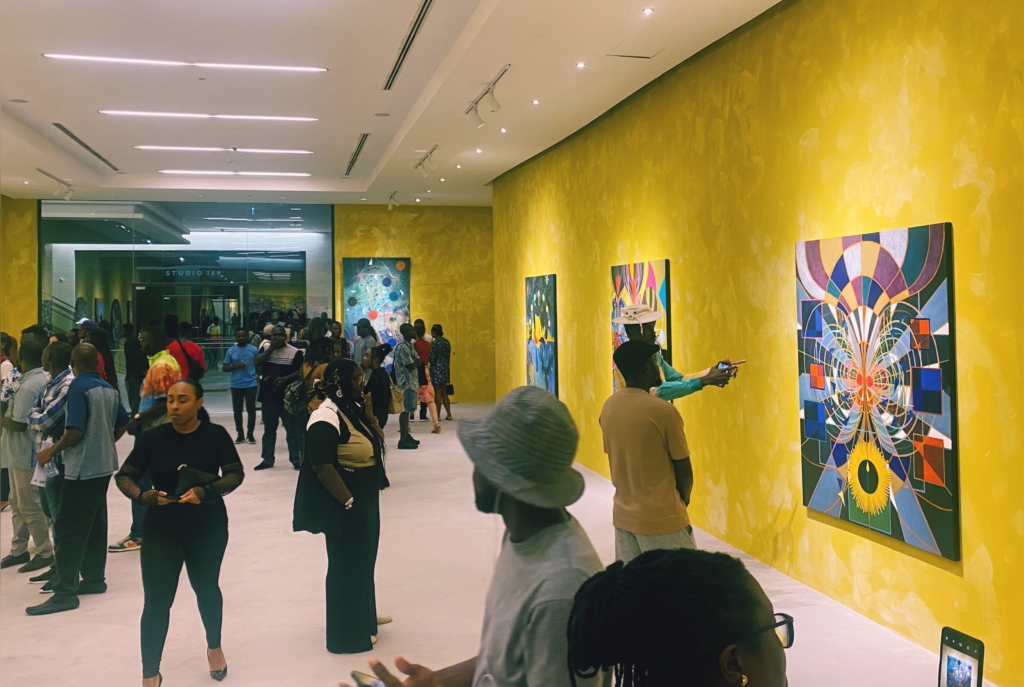 However, her rationale for the solo Accra showcase goes beyond just likes on the gram. But as I would later whisper to tell her as weaved through the crowd of camera-flashing millennials, "It is an added value."
The Paris-born visual artist, Tiffanie Delune, during this residency, was undoubtedly submerged in the ambiance of femininity, spirituality and inclusion.
Her heritage from a French mother and Belgian-Congolese father has inculcated in her many varied experiences from which she has drawn inspiration all her life.
Though she lives in Lisbon, it took an over 2,000-mile trip to Ghana to really tap into the grandeur of nature, history and culture seen in some of her new pieces.
"Most of the work does have reference to my own experiences. It is an experience of my own spirituality me navigating this world.
"So physically travelling to places as here being in Ghana, also travelling in my subconscious in a certain way so it's a crossroad between reality and fantasy, between real memories and experiences lived and my desire, subconscious and dreams coming into play."
Tiffanie sat across from me at the western end of the gallery wearing a well-lined corn roll.
In her stylish pitch-black overalls, she explained to me the role spirituality plays in glueing together all life forms into a medium while at the same time intrinsically demonstrating the non-binary nature of things.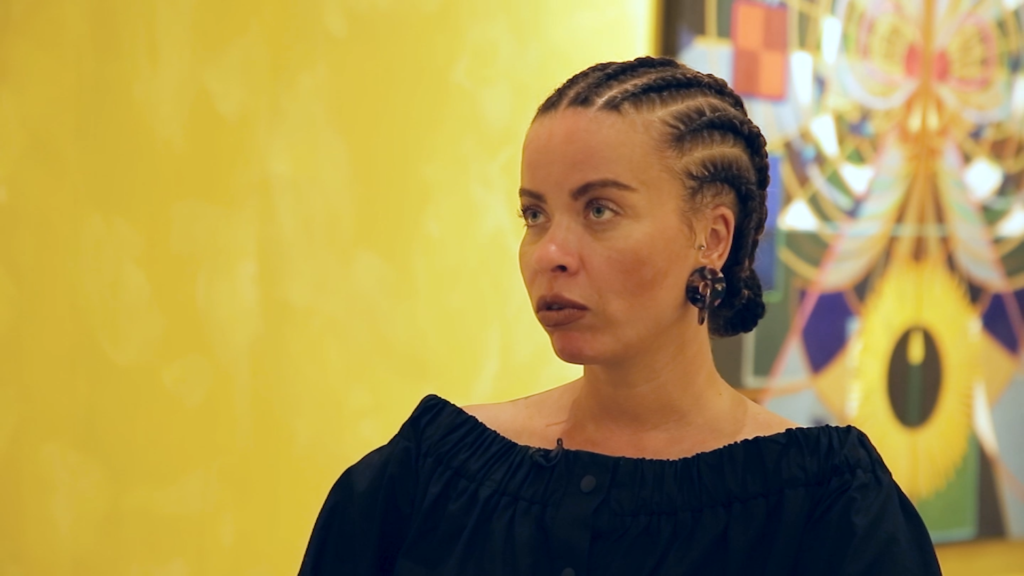 The artist talks me through her "visual diary of what it means to be a woman interested in the natural world of spirituality and our identity, our ancestry, but also our experience of the world."
"The reason why I don't make it static and why the work does not repeat itself and why the work is constantly evolving is that there is not one way to look at spirituality.
"There's not one way to look at religion, at believing, there is no static thing for myself, but also for everyone around here and I think they call abstraction the language of the soul in the sense that we will have different beliefs.
"But if we both speak from the soul, we will be able to have a very interesting conversation," Tiffanie explains.
To her, the concept of self-awareness and the sources of one's energies cannot be underestimated which is why she themed this exhibition, 'There's Gold on the Palms of My Hands'.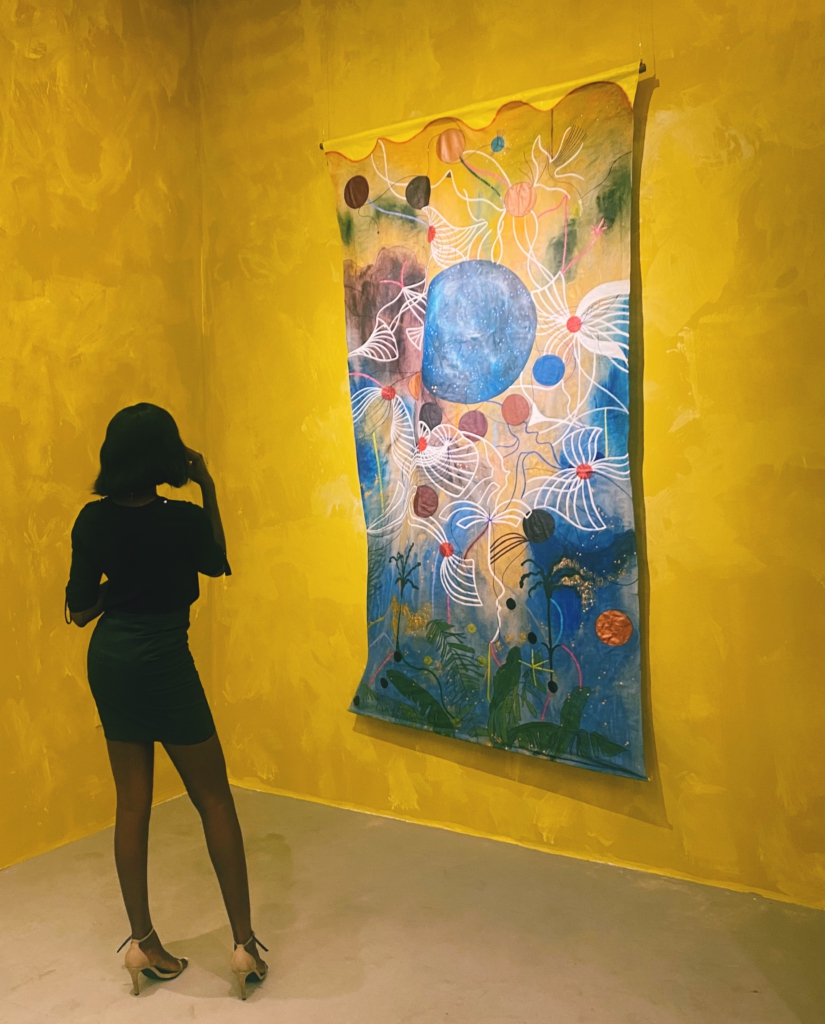 The exhibition opened on March 29 and will be on view until May 3, 2023, at Gallery II inside the Galleria Mall at the Kempinski Hotel Gold Coast.
One of her most profound pieces in the exhibition was The Dreamer's Ladder.
This creation symbolises growth, ascension and development in all spheres, a phenomenon that Tiffanie champions ferociously.
It combines elements including a ladder, bats and a black hand positioned near the bottom of the canvas.
Ordinary as they may appear, these elements send a strong message to the world.
Tiffanie explains; "My work, I'm sure you notice, has a sort of playfulness and cheekiness. I personally think it's a wink-wink to the art world as well which we know is often seen as a white space and also a patriarchal space. So here, for once, the hand is feminise and the hand is black."
An experience with the environment in Cape Coast, a location known to be the last point where slaves taken from West Africa were taken before subsequently shipped off to the Americas.
She described the awe that accompanied the sunset along the beaches of the coastal town as it happens to have found its way intone of Tiffanie's works for the showcase.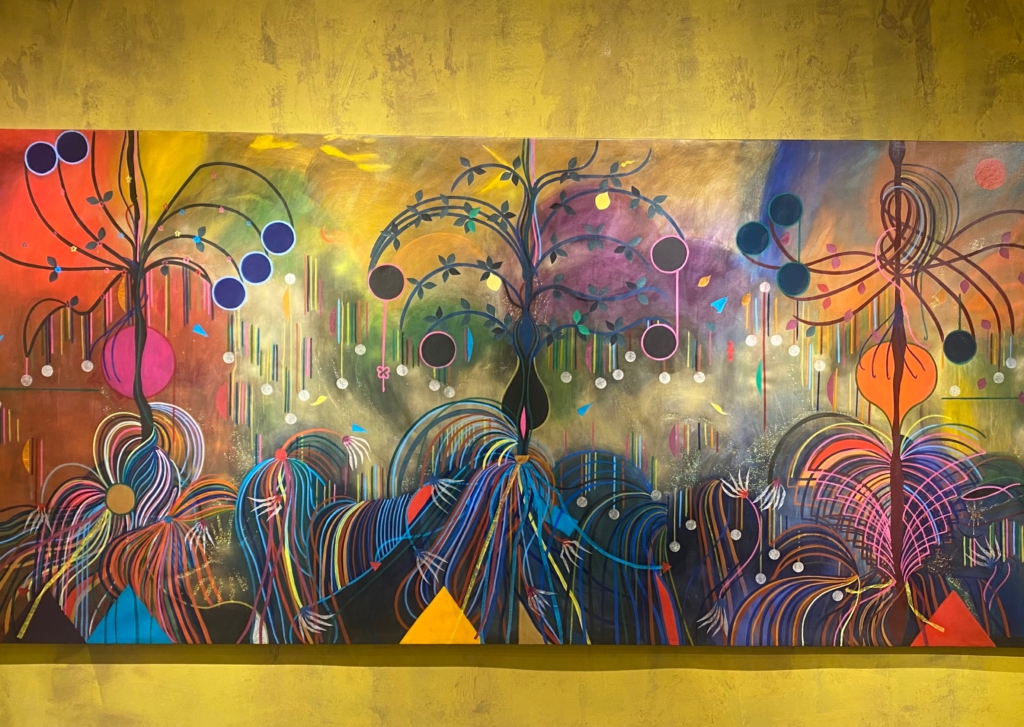 "In that one for example, the sun is orange because this is a sun that I've seen here in Cape Coast and I remember the colour being so bright, almost like a sort of sunset and it was almost a sort of tangerine.
"It was so vibrant and so unique and so strong that at some point, you didn't even know anymore if it was the sun or the moon as strong as it was and very unique. And I remember thinking 'This is magic' and I wanted to paint it but I do like to confuse the viewer."
"So then you also have the moon within the same work. So is it sunset, is it night, and it does happen from time to time that the moon is present during the day, and we no longer know where we are.
"So that's what I want because I am interested in spirited and soulful work., but also confusing senses, let's say, so that your imagination is, I will say, activated as its highest."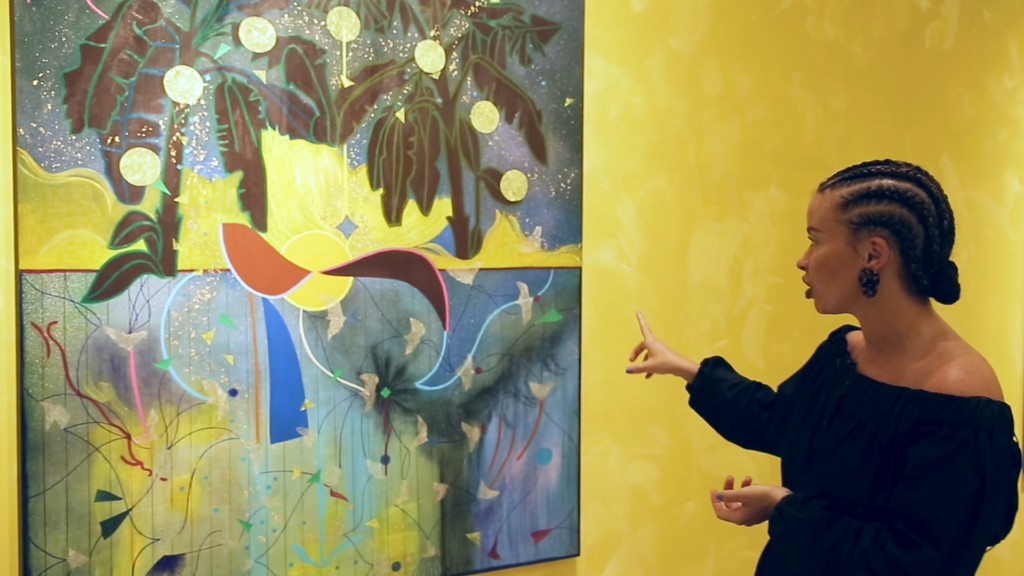 Patrons of the show were amazed at the amount of work Tiffanie has been able to get through in just about three months of the residency.
The feedback has been awesome with many compliments which she is pretty excited about.
"I think one of the two best compliments I've heard one was that I make the complexity and intensity look easy and effortless, which I love. I think it's a very beautiful compliment. And then the other is that you make spiritual abstraction very appealing and engaging and poetic," she added.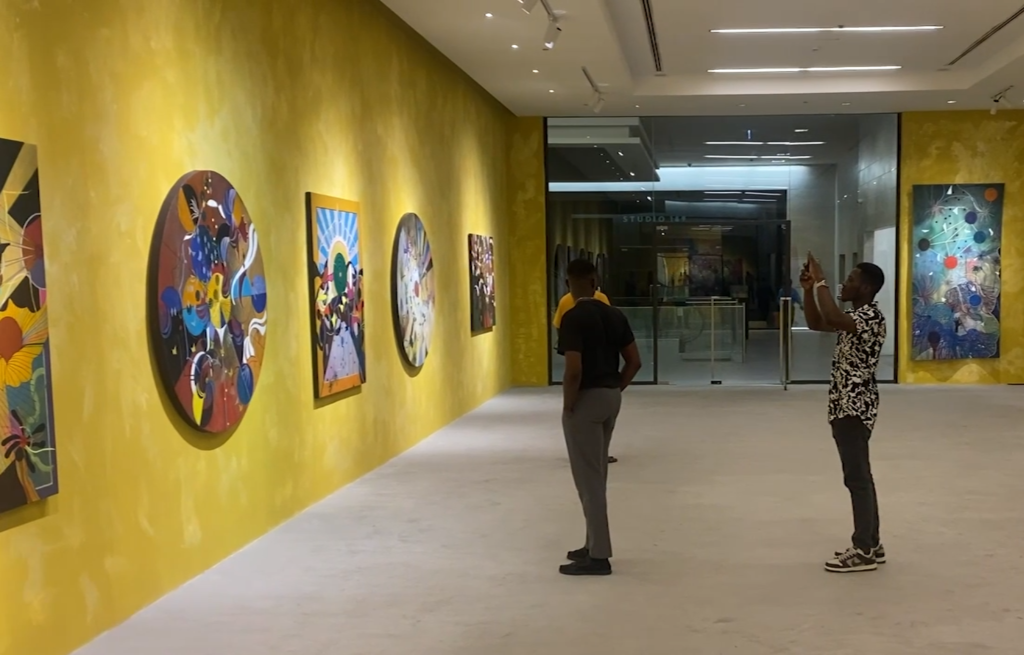 This exhibition is basically an expansion of her initial focus on personal trauma and childhood experiences.
---
Source: Myjoyonline.com