From Better Call Saul and Abbott Elementary to Andor and Top Boy, Hugh Montgomery and Amy Charles pick the year's greatest programmes to binge right now.
1. The Bear
Given the literal and metaphorical heat inside a restaurant kitchen, it would seem to be a perfect crucible for drama. So it's surprising that there hasn't been a top-flight restaurant-centred show – ok, Bob's Burgers aside – until this June, when Hulu production The Bear premiered in the US and quickly became the breakout hit of the summer. In a star-making performance, Jeremy Allen White plays the fine-dining chef returning from New York to his native Chicago to take over his family's sandwich shop following the suicide of his brother. But as he tries to revive its fortunes, he comes into conflict with the joint's long-standing staff, as does his new hire, keen young sous chef Sydney (Ayo Edebiri). Altogether, it makes for the very opposite of comfort TV, both tightly wound and exhilaratingly kinetic – as well as mouthwatering, for carnivores at least, with its depiction of Chicago's famous beef sandwich, among other things. (HM)
Available on Hulu in the US and Disney+ in the UK
2. Better Call Saul
This year saw us bid farewell to a few all-time-great series (including Atlanta, below), but perhaps no finale was a bigger deal than that of this Breaking Bad spin-off exploring how the once flawed but well-intentioned Jimmy McGill (Bob Odenkirk) became Saul Goodman, aka Walter White's deeply crooked lawyer. What started out as a spin-off project that even creator Vince Gilligan wasn't totally sure about ended up arguably outshining its acclaimed predecessor with its more nuanced depiction of a man succumbing to moral compromise. And perhaps most impressive of all was the way it managed to stick the landing in its final season: without giving anything away, it confirmed the show, in the words of the New Statesman, as a "a high point in television drama: never has a series better conveyed the complexities of human lives". (HM)
Available on AMC+ in the US and Netflix in the UK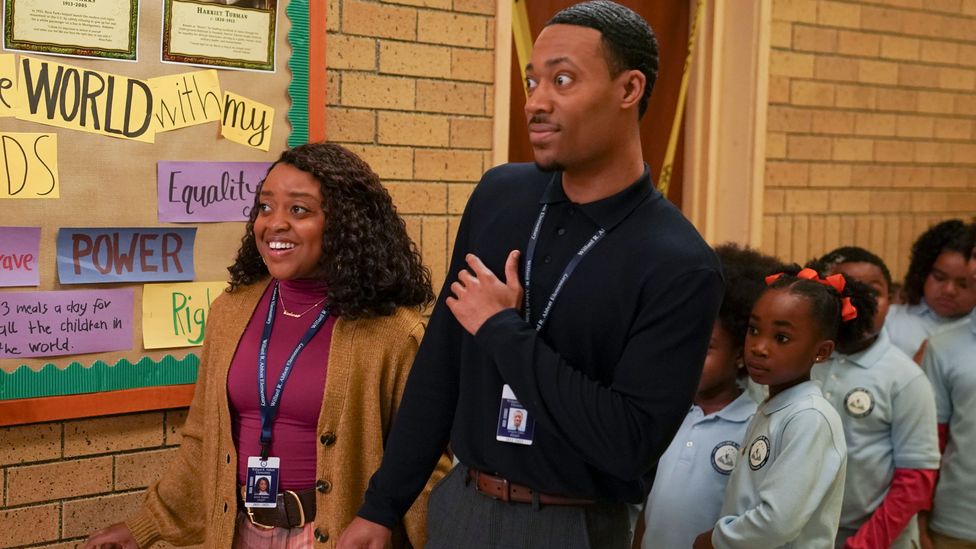 (Credit: ABC)
3. Abbott Elementary
It's been a while since a mainstream network sitcom felt as alive and accomplished as this ABC mockumentary from creator and star Quinta Brunson. Focused on the trials and tribulations of a group of overworked educators at an underfunded Philadelphia school, the show impressed right out of the blocks when it first premiered last December – and with this autumn's second season, it has continued to keep sweetness and sharpness, sitcom hijinks and social commentary, in perfect balance. At September's Emmys, it picked up three wins from seven nominations, including for Brunson and Sheryl Lee Ralph as the fabulously battle-hardened kindergarten teacher Barbara Howard, but I'd expect a veritable sweep of awards coming its way soon enough. (HM)
Available on ABC and Hulu in the US and Disney+ in the UK
4. The Rehearsal
How to explain this mind-boggling show, really? Well, maybe the best way is through a film reference: Charlie Kaufman's equally discombobulating 2008 movie Synecdoche New York. In that, a theatre director tried to create a bonkers, ever-expanding facsimile of his real-life existence using actors, actors playing the actors themselves and yet more layers still. Here, comedian Nathan Fielder ends up on a similarly Sisyphean path: setting out to help people "rehearse" potential future life situations using actors, he then becomes part of the performance himself, playing a fake father in a simulation of a family – and that's just the tip of the iceberg. The result is the most bizarre kind of reality TV imaginable, in which the question of what is real and what is not becomes increasingly muddied, as do the ethical implications. But by the end of the six-episode series, there is something curiously very moving about the instinctively ironic Fielder's seeming discovery of genuine emotional connection within his grand charade. Or maybe, of course, that's all a con too. (HM)
Available on HBO Max in the US and NOW in the UK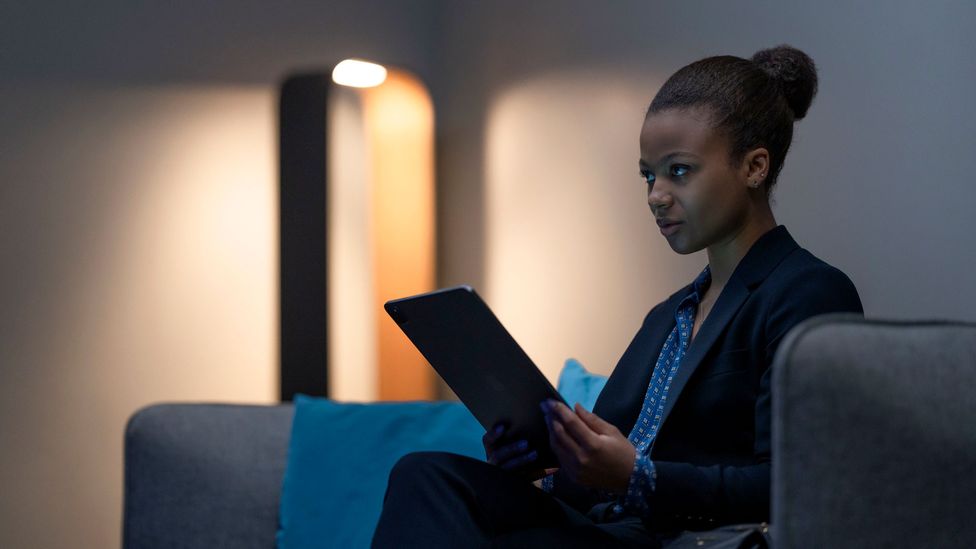 (Credit: BBC/HBO)
5. Industry
Few milieus are more mystifying to outsiders than the world of high finance, but while this BBC/HBO series about London graduate bankers has its fair share of incomprehensible jargon, it is never less than entirely gripping. In fact, this year's second series was even better than the first, as its young protagonists turned into ever more complex, morally compromised characters – from inscrutable American Harper, forging a connection with an eccentric tech billionaire, to privileged West Londoner Yasmin, out to really assert herself but dragged down by her noxious father, and Robert, now sober but still battling with serious demons. With its high quotient of sex, drugs and excellent dance tunes, it also manages to be racy without feeling gratuitously so, convincingly capturing a state of being where constant hangovers are set off by the desperate need to succeed. Bring on series three. (HM)
Available on HBO Max in the US and BBC iPlayer in the UK
6. Big Boys
No series has been sweeter this year than this semi-autobiographical sitcom from British comedian Jack Rooke about the blossoming friendship between two first-year university roommates Jack and Danny, one gay and one straight, played by Derry Girls' Dylan Llewellyn and Jon Pointing. What could have made for a hoary odd-couple style sitcom instead turned out to be brilliantly nuanced and tender, with Pointing in particular impressing as the jack-the-laddish Danny whose initially confident exterior belied a deeply affecting struggle with mental health. For anyone needing a pick-me-up, it's the kind of show to restore your faith in humanity; let's just hope it gets an airing beyond the UK soon. (HM)
Available on All4 in the UK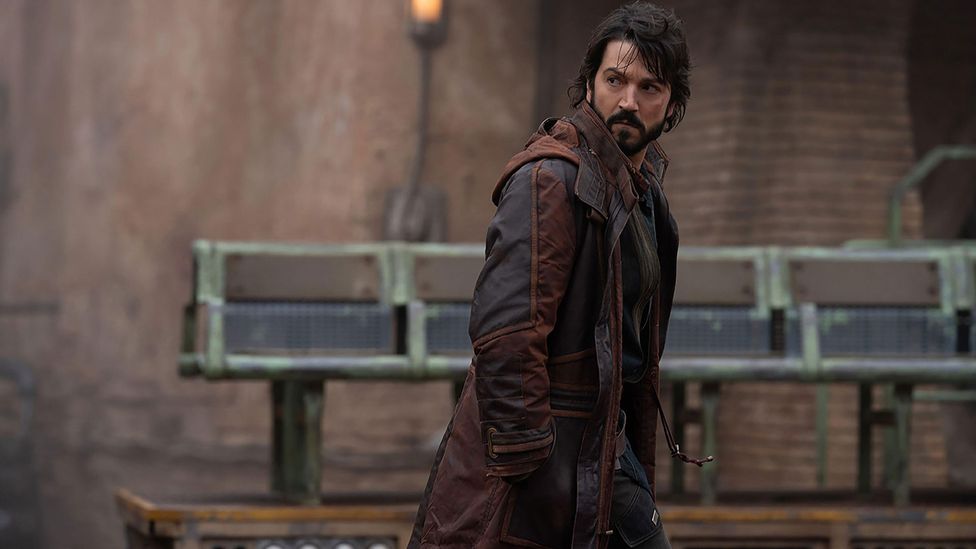 (Credit: Lucasfilm/Alamy)
7. Andor
Even devoted Star Wars fans would have to admit that the extension of the franchise into a full film and TV "shared universe" has not thus far produced the most inspired results, such is the over-adherence to a tried-and-tested formula on both big and small screen. So the latest Star War Disney+ show, released this autumn, shocked everyone with its ability to defy the corporate rules. On paper, a prequel series to a spin-off prequel film, Rogue One, centred on rebel fighter Cassian Andor (Diego Luna), didn't sound promising. Yet in the hands of showrunner Tony Gilroy (the Oscar-nominated director of Michael Clayton), it became a compelling and chillingly real study of authoritarianism that was all the better for dispensing with the usual Star Wars paraphernalia of lightsabers and cute sidekicks. As The Guardian said, "Gilroy… seems to care little about what came before him. Instead, he has focused on human drama, visually stunning set pieces and watertight writing" – and, fans will be glad to know, a second series is already in the works. (HM)
Available on Disney+ internationally
8. Atlanta
After a four-year hiatus, Donald Glover's semi-autobiographical comedy-drama returned with not one, but two series this year – and that was that, as it has now said goodbye for good. But what a show it was, a formally daring piece of work with a gobsmackingly self-assured ability to slip between genres and tones that really pushed the boundaries of what can be achieved on the small screen, while offering pithy wry commentary on the state of contemporary America and more besides. In fact, the first of its two new runs saw rapper Paper Boi, manager Earn et al on tour in Europe, allowing for some equally astute satire on social mores – and attitudes to race – on the other side of the Atlantic; then, finally, it returned to Georgia to give a brilliant hometown send-off to the gang. The show will be much missed, but its place in TV history is assured. (HM)
Available on Hulu in the US and Disney+ in the UK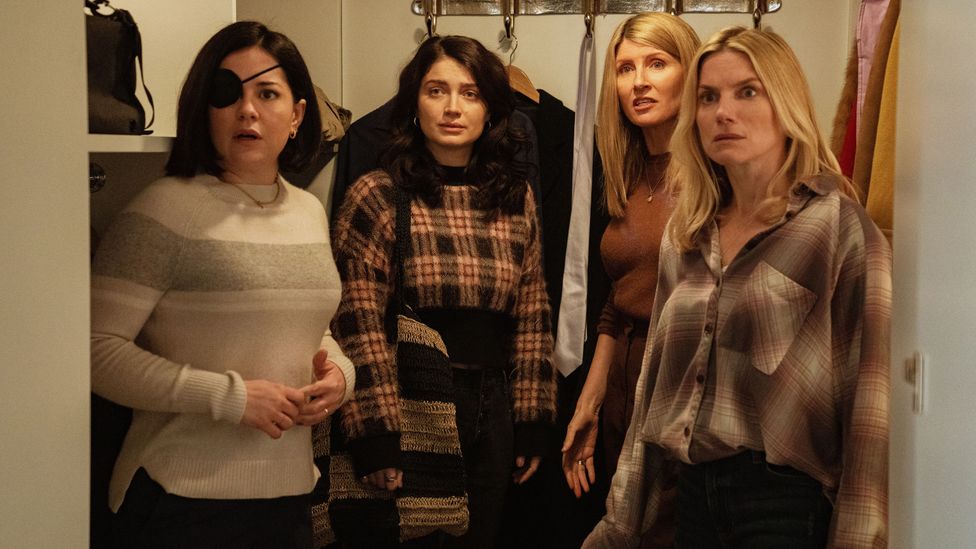 (Credit: Apple TV+)
9. Bad Sisters
With the likes of Severance, Pachinko (see below) and Slow Horses, Apple TV+ has had a particularly strong year out of the streamers – and this Irish comedy-drama was possibly its very best offering of all. An adaptation of a Belgian series written by and starring Sharon Horgan, the Irish comic actor and writer best known for Catastrophe, it revolved around a group of female siblings living in Dublin conspiring to murder one of their other sisters' abusive husbands. Well, that was in the past timeline – in the present timeline, he was indeed dead but who killed him, and how, was a mystery that ran through the 10 episodes. The performances all round were stellar, and like Catastrophe, it was a comedy-drama that truly lived up to that description, masterfully blending gallows humour with real pathos. Meanwhile Claes Bang as the rotten spouse gave simply one of the most skin-crawling performances ever committed to screen (and we mean that only as a compliment). (HM)
Available on Apple TV+ internationally
10. Sherwood
The crime drama has had as many iterations as ever this year, but they didn't come more intelligent or searching than this BBC series from the prolific playwright/screenwriter James Graham, which explored the troubled legacy of the 1980s miners' strikes through the case of a crossbow-wielding killer in a Nottinghamshire village, who hides out in the famous Sherwood Forest. Inspired by a real-life case, it wove a complex portrait of a place still riven by old political divisions, with the help of an astonishing ensemble cast, including Lesley Manville, David Morrissey and Joanne Froggatt among others. In fact, the whodunnit was far less important than the question of "how did a community end up like this?" – and that's what made it in the end so profoundly gut-wrenching. (HM)
Available on Britbox in the US and BBC iPlayer in the UK
11. Borgen: Power and Glory
After nearly a decade away, the Danish series dubbed "the greatest political drama ever" by the BBC's own Caryn James returned for a third series – and while the real-world geopolitical landscape might have changed significantly since then, the show still feels as astutely observed as ever. This time round, the redoubtable Birgitte Nyborg (played once more by Sidse Babett Knudsen) was a foreign minister and the show placed the climate crisis at its core, via a storyline about the discovery of oil in Greenland, and the resulting political battles, and ethical conflicts, over what to do. As Ed Power in his review for iNews said: "its slow burn formula has been wonderfully preserved".
Available on Netflix internationally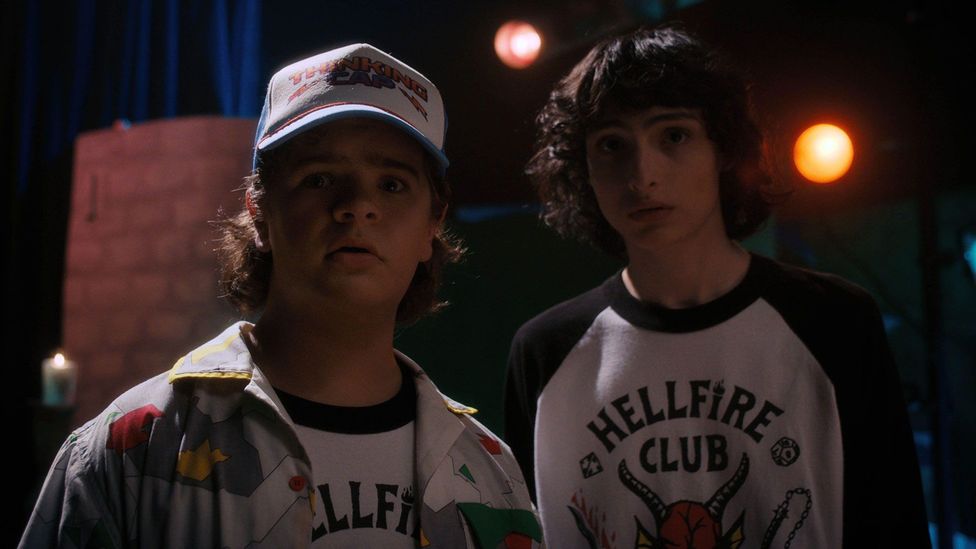 (Credit: Netflix/Alamy)
12. Stranger Things 4
In the new season of Stranger Things, the show goes full horror: its kid protagonists are growing up, and the show is maturing with them, with some absolutely frightening results. This time around, they're fighting a monster called Vecna, who has a unique way of tormenting his victims by preying on their worst fears. As it's the penultimate series, the Netflix blockbuster has begun to wrap up the plot, tying up threads and giving fans some long-awaited answers. One of the best things about this season is how it balances the everyday trauma of being a teenager with that caused by the terrifying otherworldly forces that exist in Hawkins, intertwining its central sci-fi storyline with the minutiae of its characters' everyday lives. Among its enormous ensemble cast, Sadie Sink as the grief-stricken Max gives perhaps the standout performance of this series so far, while her castmate and the show's ostensible lead, Millie Bobby Brown, continues to impress as the tormented, superpowered Eleven. It may be much bigger in budget and scale than when it started, but Stranger Things has kept its core appeal, as a fun but terrifying 1980s time capsule that keeps you on the edge of your sofa. (AC)
Available on Netflix internationally
13. Station Eleven
On paper, this HBO adaptation of Emily St. John Mandel's acclaimed novel (which began in the US at the end of 2021, but finished up this year, so sneaks in) sounds like the worst viewing possible for this moment in time: telling the story of a world decimated by a pandemic, it certainly should be approached with caution. Yet, in a way that recalls another HBO masterpiece The Leftovers, the drama does something extraordinary with this bleak-sounding premise: through lyricism, philosophical inquiry and deep humanity, it manages to move beyond tragedy and become a profoundly hopeful work that indeed offers a meaningful way to help process recent events. Don't expect to entirely understand it all either: as it flicks between two timelines – the present day, when the devastating flu takes hold, and 20 years later, when a band of Shakespearean actors tour a ravaged world – it can feel confusing at times. But that, in fact, is all part of its imaginative power: it's the kind of TV that, even after the explosion of shows we've had in the last few years, truly shows the boundless possibilities of the form. (HM)
Available on HBO Max in the US and Starzplay in the UK
(Credit: Channel 4/Alamy)
14. Derry Girls
The third and final series of Lisa McGee's beloved comedy about a gang of four girls and the "wee English fella" living in Derry, Northern Ireland in the 90s has more than lived up to expectations. With the girls growing up and out of school, it incorporates, among other things, 18th birthday parties, exam results, a fantastic flashback to the lives of their mothers and – something no 90s TV show would be complete without – a Spice Girls tribute. At the same time, it also continues to deftly handle the Troubles, the ongoing conflict on the island of Ireland that defined much of its history in the 20th Century. The five leads are as ever complemented by the fantastic Siobhán McSweeney as Sister Michael, whose zingy one-liners are a highlight. And if you've not seen it yet, keep your eyes peeled for a scream-inducing cameo in the series' first episode. (AC)
Available on All4 in the UK and Ireland, and coming to Netflix internationally later in the year
15. Inventing Anna
If the 2022 TV year will go down as anything, it might be as the year of the scammer: from The Dropout to The Tinder Swindler, a whole of range of shows, both fiction and non-fiction, have fed a zeitgeist-y appetite for stories of grifts and deception. And one of the first out of the blocks was super-producer Shonda Rhimes' series based on the juicy tale of "fake heiress" Anna Delvey, aka Anna Sorokin, the wily twentysomething who conned New York society into believing she was a super-rich German trust-fund baby. It got very mixed reviews overall, but for my money, after some admittedly uninspiring opening episodes, it really takes flight, becoming at once a gripping account of the story of Sorokin's crimes and a sophisticated, postmodern dissection of her "invention" as a totemic 21st-Century pop cultural figure – in which of course, this very show itself has played a hand. (HM)
Available on Netflix internationally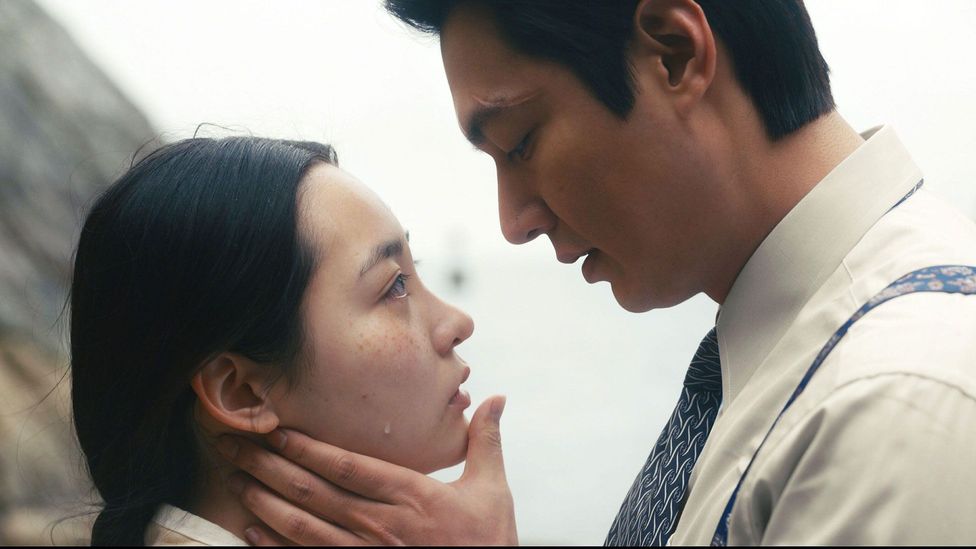 (Credit: Apple TV+)
16. Pachinko
To many people's surprise, following a shaky launch, Apple TV+ has been the breakout streaming platform of the year, with a run of critical successes, including Severance (see below), spy thriller Slow Horses and, most praised of all, this emotional Korean period epic based on the book of the same name. Spanning most of the 20th Century, it tells the story of Sunja, a young Korean émigré to Japan who has to deal with prejudice and hardship as she fights to make a life for herself and her child; many decades on meanwhile, in 1980s Osaka, her cocksure banker grandson Solomon is reckoning with his roots. Featuring outstanding performances from an ensemble including recent Oscar winner Youn Yuh-jung as the older Sunja, it's not perfect – there's a touch of clunkiness about some of the narrative beats – but its combination of emotional and intellectual force as it deals with big themes like colonialism and makes it one of the year's most impressive and resounding achievements. (HM)
Available on Apple TV+ internationally
17. Search Party
Few shows have made quite as extraordinary narrative leaps as this HBO comedy-drama has done over the course of its five seasons. What initially started out as a kind of Girls-meets-Raymond-Chandler alt-detective drama, with a New York hipster, Dory, on the hunt for a missing acquaintance, cycled through various genres, including courtroom drama and Misery-style toxic fan thriller – before in this year's final series, centring on a cult and finally veering into post-apocalyptic zombie horror. Underscoring all this, though, was a pitch-perfect satire of a certain privileged millennial mindset, as, in their fickleness, self-involvement and essential purposelessness, Dory and her friends inadvertently brought about the end of the world as we know it. At its heart, meanwhile, was an astonishing, ever-evolving performance from Alia Shawkat: hitherto best known for Arrested Development, she turned Dory into the nightmarish voice of a generation. (HM)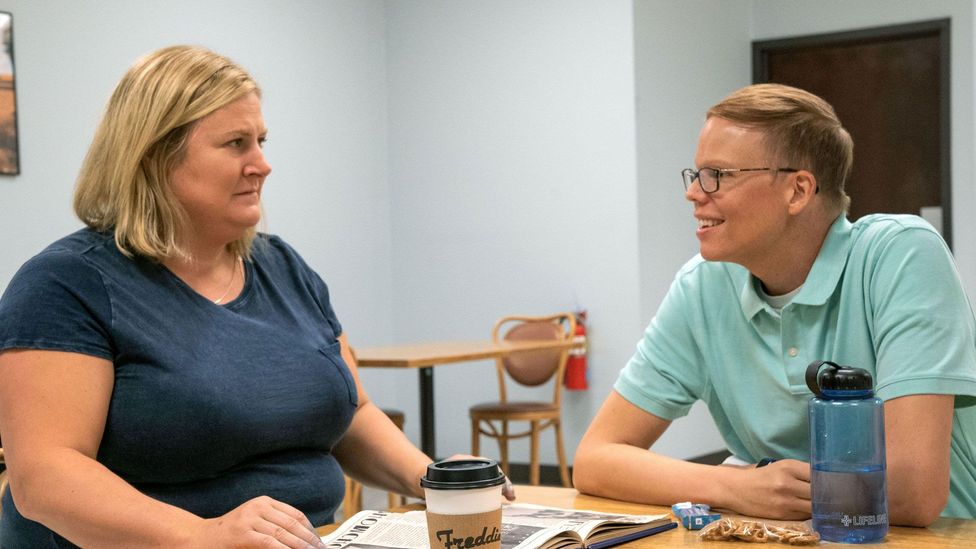 (Credit: HBO/Alamy)
18. Somebody Somewhere
This new vehicle for the US stand-up Bridget Everett occupies an increasingly popular sub-genre: the comedian-authored semi-autobiographical comedy-drama (see everything from Aziz Ansari's Master of None to Mae Martin's Feel Good). Yet this is one of the very best of these efforts. Charming and bittersweet, it finds a beautiful specificity in telling the story of Everett's Sam, a woman who has returned to her Kansas hometown following the death of her sister, where, struggling to move on and stuck in a dead-end job, she finds solace in a renegade local choir group, which allows her to put her full-throated singing abilities to use, among other things. A long-time comedian's comedian, Everett shines, her ribald charisma radiating off the screen, while she has a perfect sparring partner in Jeff Hiller as her co-worker and new best friend Joel. It makes for the kind of show that feels so gently immersive, the characters so lived-in, you can't quite believe it when it's suddenly all over. (HM)
Available on HBO Max in the US and NOW in the UK
19. Severance
This psychological thriller might be set in an office, but it is so much more than your average workplace drama. In Severance, the main characters work for a mysterious company called Lumon, who have enormous, sparse headquarters with retro tech and creepy art. But that's not the worst of it. The central team here – and many of Lumon's employees – have undergone a procedure called severance, which is when you are divided into two selves, one inside work and one outside work– meaning that when you're in the outside world you can't remember anything that happens at work, and when you're at work, you have no recollection of your outside life. A fine cast includes Adam Scott, who is subtly fantastic in the role of everyman Mark, and the likes of Britt Lower, Zach Cherry, Patricia Arquette and Tramell Tillman, all in their own ways compelling. But the series truly belongs to John Turturro and Christopher Walken, whose radiant quasi-romantic storyline steals the show. Directed and executive produced by Ben Stiller and written and created by Dan Erickson, Severance creates a deep sense of unease while keeping you totally hooked. (AC)
Available on Apple TV+ internationally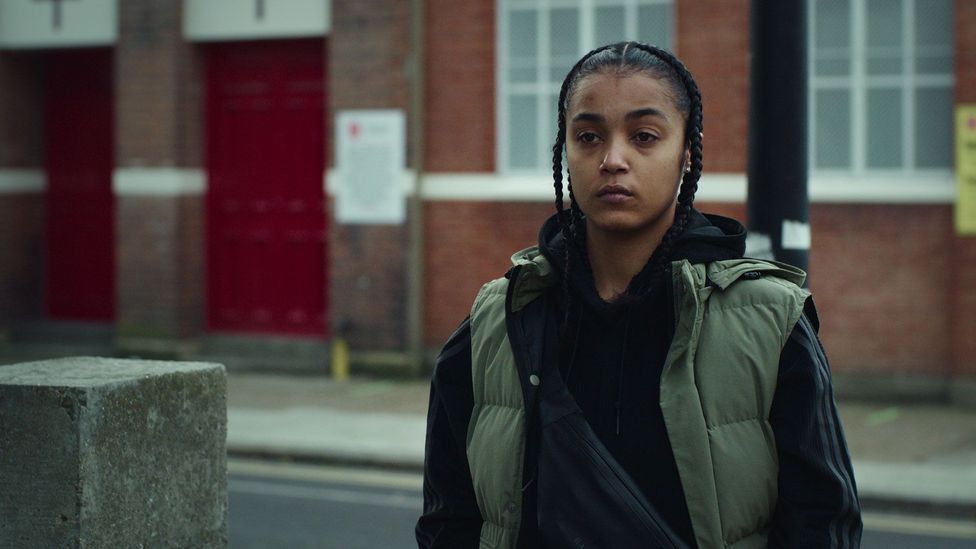 (Credit: Netflix)
20. Top Boy
Netflix may be facing a reckoning at the moment, financial, critical and otherwise, but among its few 2022 highpoints is undoubtedly the return of this brilliant British drama, which was cancelled by its original UK broadcaster Channel 4 but then picked up by the streamer (via the rapper Drake, who pushed for its revival and these days is the show's executive producer). Now in its second Netflix series, or fourth series overall, it tells an at-once densely detailed yet narratively propulsive story of East London life, which deftly covers everything from gang crime and drug deals to gentrification, coercive relationships and immigration policy, and has only got better and better. The way it films East London is both harsh and beautiful, capturing its vibe in a way that feels truer than any other film or show in recent memory, while the performances are remarkable in their naturalism – among them rapper Kano as the brooding Sully, now living on a canal boat, and Jasmine Jobson as the hard-edged Jaq. (HM)
Available on Netflix internationally
21. This is Going to Hurt
A harrowing, deeply important and, most of all, funny portrait of the British healthcare system, the National Health Service (NHS), This is Going to Hurt is based on the memoir of the same name by former doctor Adam Kay. Having been a junior doctor in a busy London hospital's obstetrics and gynaecology ward, Kay paints a nuanced portrait of the working conditions he and many others endured, and the serious toll that long hours and intense pressure takes on your life. Ben Whishaw's performance as Kay is a tour de force, delineating the inner turmoil of a man determined to at least try to do the right thing, but who doesn't always pull it off. What's so special about this show is that Kay isn't a likeable character, but you continually root for his success, desperately wishing him, his patients and his colleagues well. It's not a rosy portrait of the realities of life in British hospitals, and there are some truly devastating moments throughout, but the show steadfastly keeps going with humanity and gallows humour, despite the horrors: just as healthcare professionals do every day. (AC)
Available on BBC iPlayer in the UK and AMC in the US
Love film and TV? Join BBC Culture Film and TV Club on Facebook, a community for cinephiles all over the world.
If you would like to comment on this story or anything else you have seen on BBC Culture, head over to our Facebook page or message us on Twitter.
And if you liked this story, sign up for the weekly bbc.com features newsletter, called The Essential List. A handpicked selection of stories from BBC Future, Culture, Worklife and Travel,
delivered to your inbox every Friday.
Source: BBC