Desiigner is officially facing legal trouble for exposing himself on an airplane … the feds say he masturbated in front of flight attendants mid-flight, and seemed pretty nonchalant about it.
According to legal docs, obtained by TMZ, the rapper's being charged with indecent exposure … and the paperwork sheds more light on last week's bizarre incident, saying he had his penis out while sitting in first class of the Delta flight and was masturbating while in his seat.
Flight attendants allegedly told him multiple times to stop and he eventually was taken to the back of the plane, where he was monitored by 2 of his friends. The FBI affidavit says a jar of Vaseline dropped into the aisle as he was getting up to switch seats.
After landing in Minneapolis, authorities say they spoke with Desiigner who told them it all happened because he "didn't really get much … cootie" while in Japan, and was "brick hard" when he got on the plane.
According to the docs, Desiigner said he was aroused by the flight attendant and "kind of showed her, showed her, un, 'the magic stick.' … thinking it would give her "encouragement."
BTW — Desiigner claimed he wasn't under the influence, saying he was prescribed meds in Thailand but hadn't been taking them. According to the docs, he didn't appear to be impaired during the interview with the FBI.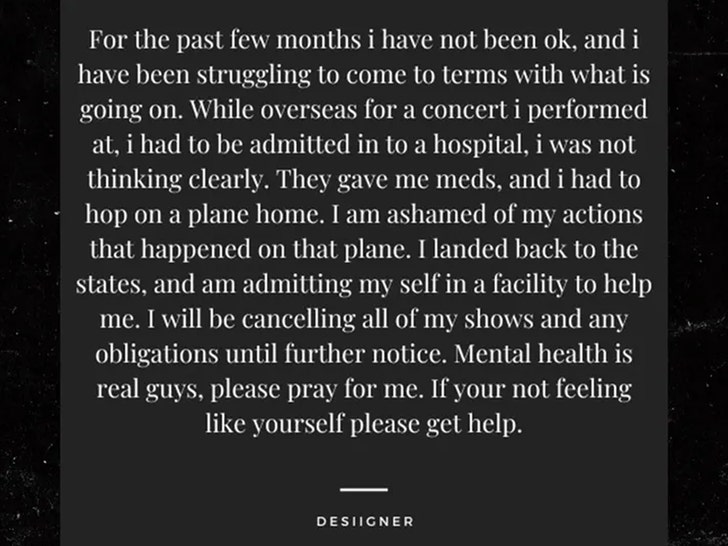 TMZ broke the story, we were originally told Desiigner got ill during his international trip and was given meds — and he believed that's what caused a sort of chemical imbalance.
The rapper also told us he's been struggling mentally for the past few months and was ashamed of what he did in the air … and said he would be admitting himself to a facility to get some help.
–
Source: TMZ